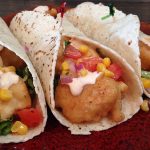 Yield: 2
Prep Time: 15 minutes
Cook Time: 15 minutes
Print
Nutrition facts

(per portion)
Nutrition facts
(per portion)
Calories: 393.95
Carbohydrate Content: 37.03
Fat Content: 7.15
Protein Content: 48.05
Fish Tacos
Optional beer battered recipe shown, however nutritional information is based on a simple baked white code fillet, with salt and pepper. This is a combination of 3 different taco elements found online, but cooked in a healthier oil. Enjoy!
Instructions
** Important note - put about 1" oil in a cask iron or heavy skillet and heat on low-medium until hot. Keep a splatter screen close at all times!
Prepare the chipotle mayo and refrigerate until ready to use
Blend together garnish ingredients (except lettuce) and refrigerate until ready to use
"For the fish, combine 1 cp flour, the cornstarch, baking powder and salt in a bowl. Quickly stir in the beer and eggs (don't worry if there are a few lumps)."
Heat the extra virgin olive oil as indicated above in important note (I use this for frying because it has the highest smoke point, and therefore the oil is not absorbed into your food like other oils); cook fish on one side, and when golden brown, turn over and cook other side. Just a couple of minutes per side is required.
"Put the remaining 1 cp flour in a shallow dish. Dredge the fish lightly in the flour. Dip the fish in the beer batter to coat, and then fry until crisp and golden brown, about 1 1/2 minutes. Drain on paper towel and season with sea salt and pepper."
Assemble the tacos using the warmed tortillas, a small amount of chopped lettuce, a spoon of garnish, bites of fish and drizzle with chipotle mayo.
These are very filling, so 1-2 small tacos per person will do.
Battered Fish www.cookingchanneltv.com
Garnish www.laurenslatest.com
Chipotle Mayo www.damndelicious.net
Add to Favourites