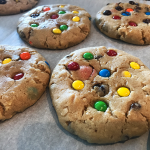 Yield: 24 large
Prep Time: 10 minutes
Cook Time: 9 minutes
Print
Giant Monster Cookies
This recipe was amazing! I can't take all the credit - the original came from sallysbakingaddiction.com, and with just a few minor modifications, they were better than I ever imagined!
So first, let me start by quoting Sally herself, in saying that these are more of a peanut butter cookie with oats, rather than an oatmeal cookie with peanut butter. When I read that line, I knew this would be the recipe to try (being a lover of peanut butter cookies myself). Also, she boasted how soft these were (and how soft they remained) - and since I'm a soft cookie connoisseur, well then... she had me at hello...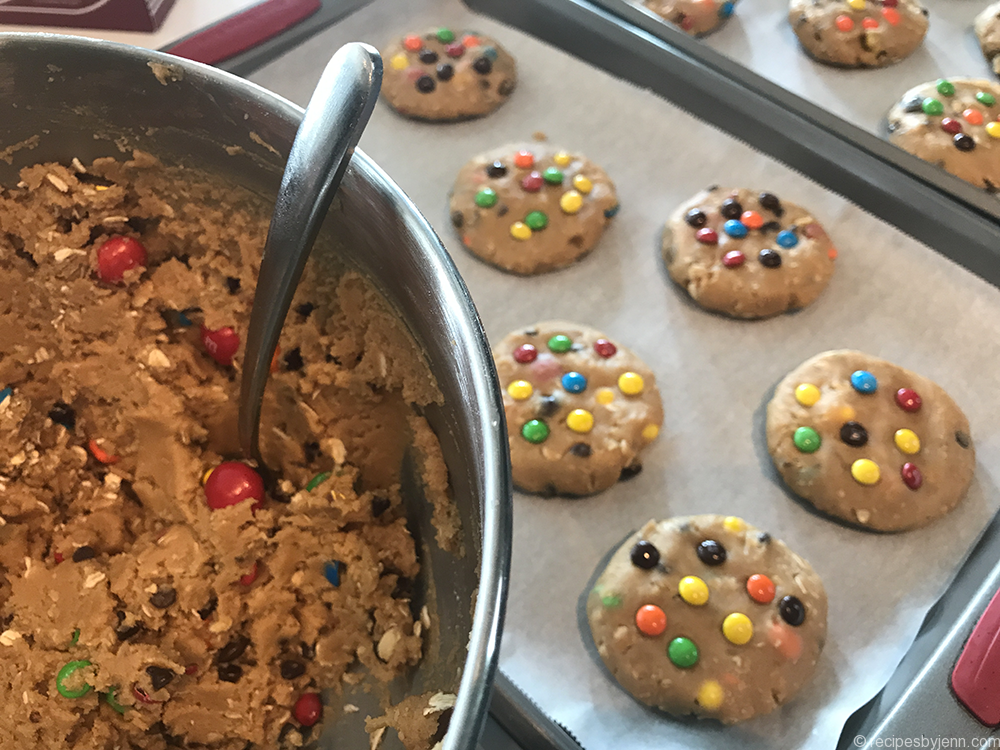 A couple of quick tips she shared (and one or two of my own) before you get started:
Use quick oats, rather than cooking oats. Also, grind them into an oat flour. I do this in my chocolate chip cookies as well, and it acts as a great binder.
Make sure your butter AND eggs are at room temperature. Room temperature eggs will blend into the batter better, making a lighter, fluffier end result.
Just before adding your baking soda, dissolve it in an equal amount of very warm water. This activates the baking soda and disperses it more evenly throughout the batter.
These cookies do not spread as they bake, so when you roll them into balls, flatten them with your hands a bit.
After you take them out of the oven, they won't be completely ready. Pressing the back of a spoon gently over the tops will create the peanut-butter-cookie-crinkle effect, and then let them finish baking on the trays.
For the M&M mixture, I used Regular M&Ms, Peanut Butter M&Ms, Mini M&Ms, and mini chocolate chips. Throw them all together and voila!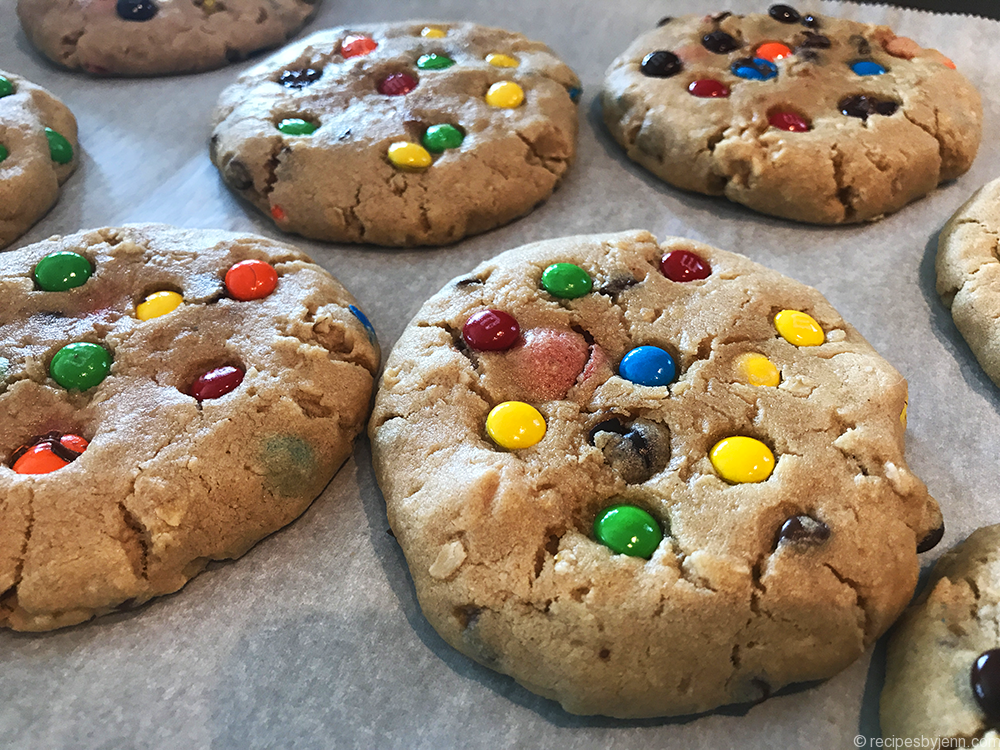 Instructions
Preheat oven to 350°F. Line baking sheets with parchment paper.
In a large bowl, cream together butter and sugar for 3 minutes. Add in peanut butter, egg and vanilla (in that order).
Slowly add in dissolved baking soda and flour. Do not over mix.
Fold in round quick oats and M&M/Mini-Chocolate Chips.
Divide dough into 24 pieces, roll into balls and slightly flatten with your hands before spacing evening over cookie sheet (bake in batches of 8 cookies per sheet).
Press additional mini-M&Ms into the tops of the cookies and bake 9 minutes.
Remove from the oven and gently press the tops with the back of a spoon. Leave them to finish cooking on the baking sheets. When completely cooled, remove from the baking sheets and enjoy!
Add to Favourites