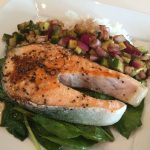 Yield: 2
Prep Time: 60 minutes
Cook Time: 20 minutes
Print
Grilled Salmon With Cucumber Relish
Instructions
Cook your sticky rice as you make the rest of the meal.
Combine the onion, cucumber, vinegar, syrup, and a sprinkle of salt and pepper. Cover and refrigerate for 1 hour.
Heat 2 tsp evoo in a non stick pan and add your fish fillets.
Cook until the underside browns, flipping once to continue cooking the other side until the salmon flakes easily when tested with a fork.
Remove the fish from the pan and add your spinach to toss in the oil.
Serve up the warmed spinach, rice, salmon and spoon the cucumber relish onto the plate, drizzling a little bit of vinegar over the salmon.
(Green: 2, Red = 1, Yellow = 1, Tsp = 1)
I am including the container values for my own reference (and anyone else wanting to do this)... but keep in mind, these are my recipes and not provided by or approved by or associated with, or anything else 'with', the 21 Day Fix. In fact, it may be a little generous at times, or ingredients may be different based on what we like to eat. It's meant to be a guide.
Add to Favourites