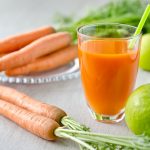 Yield: 4 cups
Prep Time: 5 minutes
Print
Orange-Carrot Juice
Another favourite around our house! There are so many health benefits to carrots juice, but they have to be palatable… Enter: My Juicer! Use this in place of regular orange juice or as a mid-day pick-me-up. The sweet apples and the oranges make it much less carrot-y!
Instructions
Wash and remove the ends of your carrots
Remove the cores of your apples, but keep the skin
Peel your oranges
Run through your juicer into a jug and enjoy! Lasts a few days in the fridge if you can resist using it all up in one day!
Add to Favourites