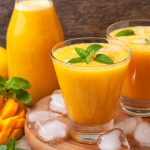 Yield: 4 cups
Prep Time: 5 minutes
Print
Pineapple Mango Juice
For the love of juicing! No joke! I love the refreshing taste of pineapple and mango, and it doesn't hurt that pineapple aids in digestion if eaten at the end of a meal (every meal we ate in Hawaii was served with fresh pineapple at the end!) So – why not juice?!
Instructions
Remove the mango skin and centre pit
Remove the apple core, but keep the skin
Utilize a whole half of pineapple, including the centre, minus the skin
Just run through your juicer into a jog and enjoy!
Add to Favourites