I'll confess – I don't get starstruck very often. In fact, the last time I even came close was playing Blackjack for hours with Carey Hart… and only because he is married to P!nk :o)
A little back story…
For our most recent trip to Vegas, my husband and I decided to pack up our rental property there, tuck all of our goodies into storage, and take a break from the amazing world that exists there, to focus on other new and exciting adventures that are coming up for us.
I happened to be browsing Facebook one day and saw a notice that Wolfgang Puck was going to be in Vegas on November 18th, signing books at his brand new Bar and Grill in Summerlin. I, impulsively and without thinking, made the firm decision that I was GOING to be there.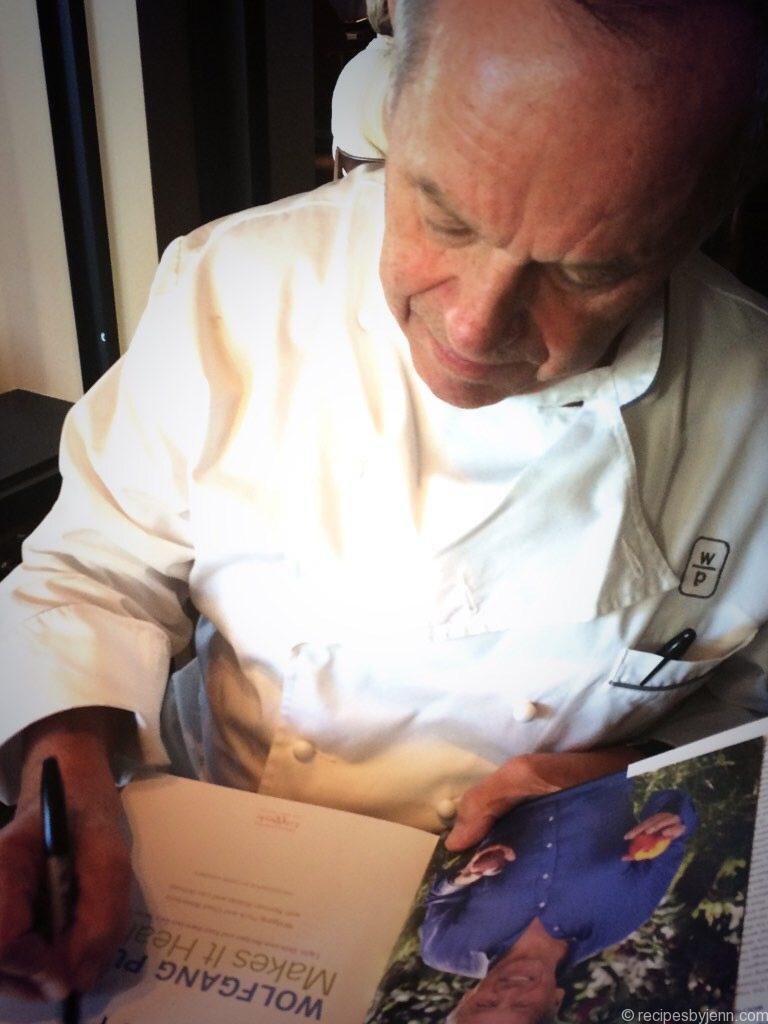 What I forgot was that, on that same day, we had movers scheduled to pick up at our condo and take everything to storage. I thought, for sure we'd be out of there by 11 am, just in time for me to clean up and head over to Summerlin.
Well… things don't often go exactly as planned on moving day.
I arrived at the retsuarant at 1:01 pm. The sign on the door said that signing was only from 11am-1pm. I was crushed for a moment, until I put on my BIGGEST smile (despite the movers-hair, clothes and makeup that I did not have time to shed!) and begged to get in. I quickly bought a copy of his new recipe cook, went around out back, and was in the last of 4-5 people waiting in line as they closed the doors.
Woohoo! I was IN!
I stood happily, with my book in hand, rehearsing in my mind what I would say: "Thank you"? "You're the reason I found the courage to really cook"? "Can I have a picture"?
No… nothing as cool as all of that. By the time I stood beside him, and he shook my hand… I blubbered out something about being so excited to meet him, and that he's helped me cook (um… yeah…. that's the point of cookbooks)… Oh, I also thanked him for doing book signings! What?!?
I TOTALLY FORGOT to get a photo with him. The most I got was a picture of him signing my book. So, I'd say sufficiently starstruck.
[gard align='center']
But it's ok… it was still an honor just to see him in person…
And for those of you that don't know, his first book, Makes It Easy, was my first real cook book – filled with stories and personal experiences, it really allowed me to become comfortable with experimenting, and finding my way around the kitchen.
So, to Mr. Puck, I say… Thank you for writing such fantastic cookbooks, making meal creation something that is easy and very attainable, and for the inspiration to begin my most favourite hobby. (My husband thanks you for that one as well ;o)
I can't wait to dive into this new cookbook!
To buy a copy of these amazing cookbooks, visit http://wolfgangpuck.com/
[gard align='center']