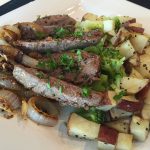 Yield: 1
Prep Time: 25 minutes
Cook Time: 15 minutes
Print
Steak & Potatoes
Instructions
Make your potatoes:
Dice your potatoes small; toss with oil and salt & pepper
Bake at 375 for approx 30-40 minutes or until soft/slightly browned
Steak & onions:
Heat the oil in the pan and add your onions; cook until they start to brown
Add mustard and mix together; make a space in the middle of the pan
Season the tenderloin pieces with salt and pepper and add to the pan
Cook the steak in the centre of the pan and the onion all around the sides, flipping the steak only once
Serve steak and potatoes with steamed broccoli, and garnish with fresh parsley.
(Green = 2, Red = 1, Yellow = 1, Spoon = 2)
I am including the container values for my own reference (and anyone else wanting to do this)... but keep in mind, these are my recipes and not provided by or approved by or associated with, or anything else 'with', the 21 Day Fix. In fact, it may be a little generous at times, or ingredients may be different based on what we like to eat. It's meant to be a guide.
Add to Favourites