When I was a little girl, growing up in the Maritimes, every event was centred around food. It really is true that food is such a huge part of entertaining.
We did not come from a wealthy background, and often food was quite scarce; however, no matter what our cupboards looked like, my mother always found a way to ensure that there was some sort of pickie or dessert for the endless stream of visitors that seemed to frequent our house. She would use what she had, and come up with the craziest of things. But she was not much of a cook. We had a dozen or so dishes that we would eat – standard ration-style foods: spaghetti, oatmeal, rice. It wasn't until I was in my mid-teens that we started buying blocked cheddar cheese. It was such a treat – we ate it sparingly on crackers with butter!
Before I left home at 17, I remember my grandfather, bless him, telling me that if I wanted to be a good woman, and get a good man, that I was going to need to know how to make a good pot of soup, and homemade bread. It makes me smile at the thought. The bread recipe came from my mother, and the soup recipe I used was from him. I thought it was the best, and by the time I left home, I truly felt as though I was ready to face the world!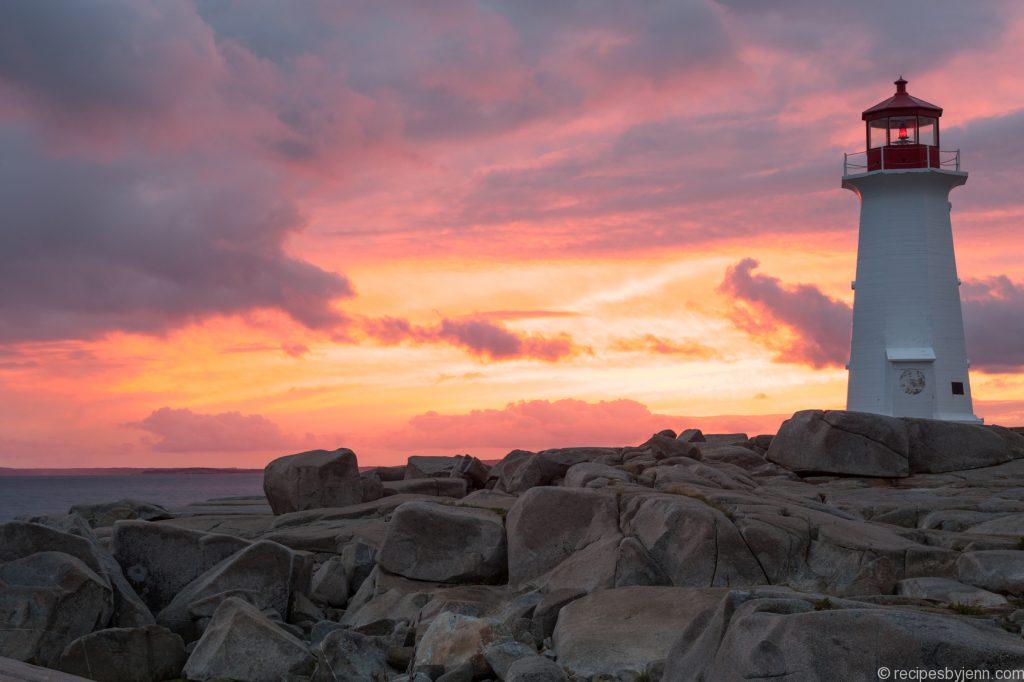 When I moved out West, my social circles consisted mostly of other college youngsters, so 'entertainment' for us, often consisted of spending our last $10 to pitch in on pizza and beer at our school's pub. I never forgot about the soup and bread policy, but neither did I have occasion to really use them (and when I DID try to make bread, I experienced the horrible sad truth that the yeast and flours I used in the Maritimes simply did not respond the same in higher elevations).
Then, college was over. I was a few years into my careers, married and well on my way to 'making it'. But my cooking skills had still not elevated beyond what I knew as a child. "It's just not how I grew up; not what I was exposed to." – the standard excuses I told myself and tried to convince my patient husband of.
We also ended up with about a dozen dishes that we ate from home – most all of which consisted of frozen boxed food, dry booked food, or roasted chicken and garlic toast from our local supermarket. But mostly, we ate out. A lot.
[gard align='center']
And then it happened… A little spark was born! While at our favourite restaurant in Las Vegas (a little lunch bistro from Wolfgang Puck), I bought my first honest-to-goodness cookbook. I was in my early 30s. I remember spending the next few days pouring over each recipe, but what stuck with me the most was the passion in Wolfgang's personal story… About his modest childhood, his love of food and flavours, his desire to work his way up from knowing nothing to becoming one of the world's moved beloved chefs.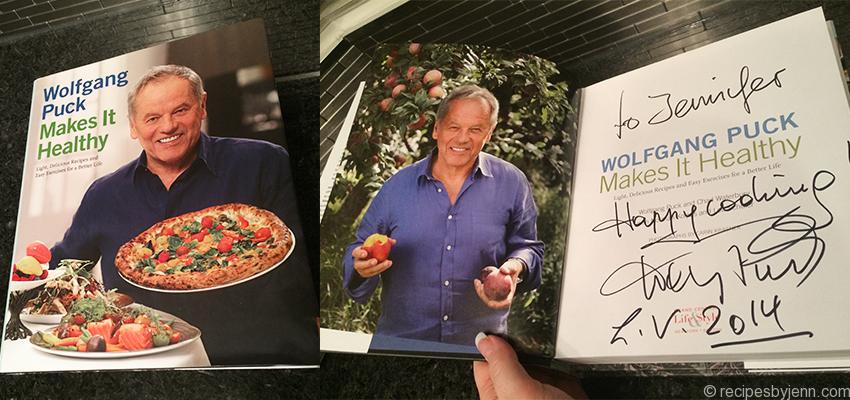 (Click to read about the time I actually got to MEET the legend, himself!)
And I thought… Why couldn't I do that?!
I mean, not 'the most beloved chefs' part, but find a passion for food that I didn't grow up with, or have previous experience with? Why couldn't I learn to recognize flavours? As I looked through each of his recipes, I found that there were a lot of foods that I didn't recognize, but far more that I did. But he made them all look so easy… And was so encouraging through them all – teaching you as he went, as if you'd never even been in a kitchen before. Sheer brilliance!
And his photos – oh the amazing photos…
Here's the thing about food photos… Anyone can take a photo: you have a burger on a plate. It's on a bun. Maybe some fries. Pretty straight forward. But then, there's the photo of a burger on a plate, photographed from eye level (up close and personal with that bad boy)… You can see the spices… SEE the juiciness… Your mouth salivates as your eyes relay the message to your brain that your about to stumble on something amazing. Maybe the cheese has bubbled and slightly charred from a grill, and it's dripping down over one side. You can actually see the onion slivers in the sauce-from-scratch. You see – as I type this, after my breakfast of melons and cottage cheese and a hard boiled egg – my mouth is salivating just thinking about it!
THAT was where I found my passion for food.
Right there… Nose buried in my first cookbook, reading easy recipes and learning – thanks to Mr. Puck – to look, really look, at foods and see the beauty.
Recently, my husband and I had the privilege to be able to take a few days and drive through our beautiful Rocky Mountains (hard to believe they are just in our back yard!).
We stopped in Banff, at our favourite restaurant. We always have come here… There are two locations in two cities that we know of, and it is just an unspoken rule that we select our hotel and schedules around making time fit for this restaurant.
We sit down on the patio, enjoying the mountain air. There is a little bird's nest nearby and I am mesmerized watching mom and and daddy tirelessly feed their chick. The waitress comes and we immediately order exactly what we've ordered for years: calamari appetizer, filet, lobster mashed potatoes, seasonal veggies. It is a staple, and consistently great between both restaurants.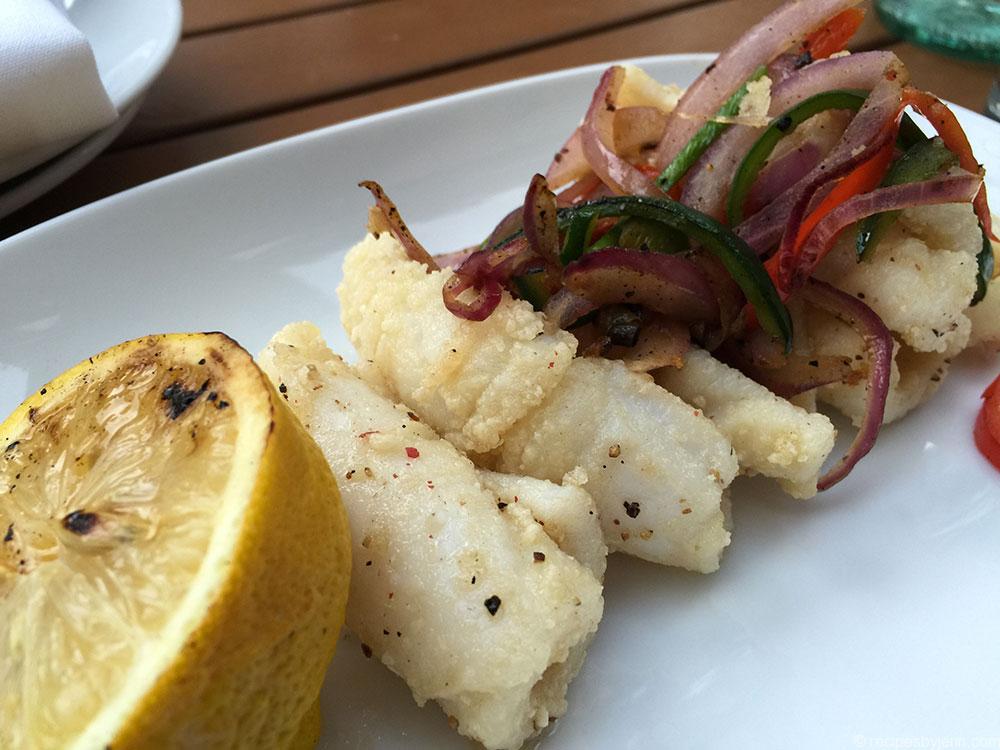 But this time… There was something different. The calamari I came out amazing, of course. Hubby and I shamelessly order a full appetizer each – 'cause we have learned when NOT to share (secrets to a good marriage!). They wok fry large pieces of the body with peppers and onion, served with a grilled lemon and fresh cracked pepper. Next – the main course. The filet: predictably wonderful. Veggies: fried asparagus with fresh Parmesan sprinkles.
And then the waitress placed the lobster mashed in front of us. Now – keep in mind, I have eaten this for as many years as I have known about this restaurant, each and every time we are within driving distance, and have ordered the exact same dishes each time. But this time…. The mashed potatoes were wonderfully whipped and smooth, and piled on top was a medley of vibrant pink lobster pieces with a dollop of sour cream and green onions. Ok – nothing different in the ingredients… BUT, the presentation was unique enough to evoke an awed response from me. The lobster had been left un-mixed to really highlight the freshness… And the green onions were slivered in long cuts, hugging around the lobster like a cozy friend. The sour cream peaked to the side… like a subtle after thought that is anything but.
It almost hurt to dig into it… And before I could get a photo, my husband hungrily sticks a big spoon in there and is scooping out all of the goodness before I even had a chance to tell him that you need to mix it up first! Who can blame him though – I would have wasted too much time photographing it, causing him to wait unnecessarily long.
When the waitress came by, I had to stop her. This was not your typical "the food is good" comment. I needed her to KNOW that the lobster mashed was sheer perfection. The presentation of it, the lack of soupy butter (although it's probably still in there, you coudn't see it, and therefore don't focus on it), the fact that the chef had set a standard for her dish that was leagues above what her counterpart in the other restaurant has. If it wasn't inappropriate, I would've asked to see her, shake her hand, hug her (awkwardly) and tell her that I can see her passion… And it moved me. (The waitress must have thought I had had a little too much mountain air by then!)
Ok I know, sounds like a bit much – but my point is that food can be a passion. It really can be art. And in a world where pop culture has everyone posting pics of their food online (just take a minute to look around the next restaurant you go to… people are photographing their food everywhere!) it can be a little tricky to spot the art among the filler.
[gard align='center']
But, look for it. Not all food photos will give you art, so it's ok if you don't feel it right away… But challenge yourself, as Wolfgang challenged me… Look close. Look for the pepper (is it ground or can you see the uniqueness of fresh cracked? It's like looking at snowflakes – everyone is different!). Look for the sizzle – are the juices flat or still bubbling. Look for the herbs – are they dried or freshly chopped? Can you see chunks of coarsely chopped garlic?
And when you find it, and you recognize it,
there you will find your excitement!
You can even tell, on my website, some of my older photos are just that burger on a bun on a plate with some fries. And as time has gone on, I hope you can see that the difference in my passion has grown, and now, when I look at my photos, I want to be able to remind myself of how much I loved a dish, and how much I need to get it into this week's food plan!
And always remember – keep trying. Even if you try, and you have a beautiful dish, and it's perfect on the plate, it may actually be revolting just to swallow the first bite (I STILL have those days!) That's ok!! Consider it a 'nailed it' moment, laugh out loud, and move onto the next one (and if you're like me, quickly whip up a tuna sandwich substitute!). Learn from the failures. Learn to recognize what parts have gone wrong – too much lemon, heavy on the tarragon, should've added white wine to the mix – and remember that on your next trial and error.
You will even find that you can appreciate your friends' food more as well. I can't tell you how many times I've had a typical meal with a friend… But every once in a while you come across a dish of something that you can just TELL came from an artist. Someone who appreciates fresh and vibrant. Compliment them… From an artist view… they will appreciate it, I promise!
And photograph your food.
Write down your recipes. Show off your favourites to your friends (that includes me! I would love to try your creations!). When you find your food passion, you will find that you eat better as well, and feel better from day to day. Food can be good for the soul… Enjoy it!