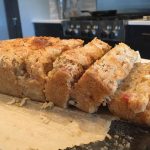 Coconut Rhubarb Loaf
I am LIVING for rhubarb right now! For the last three mornings, I have been scheming with what to do with this awesome little veggie / nectar-from-the-gods.
And the best part about it is that it's HEALTHY!! Woohoo! Yup, you betcha. Go ahead, live a little, and don't let the word 'healthy' fool you... This mutha is the jam! (Bahahahaha! Yes, I made rhubarb jam! Ha!)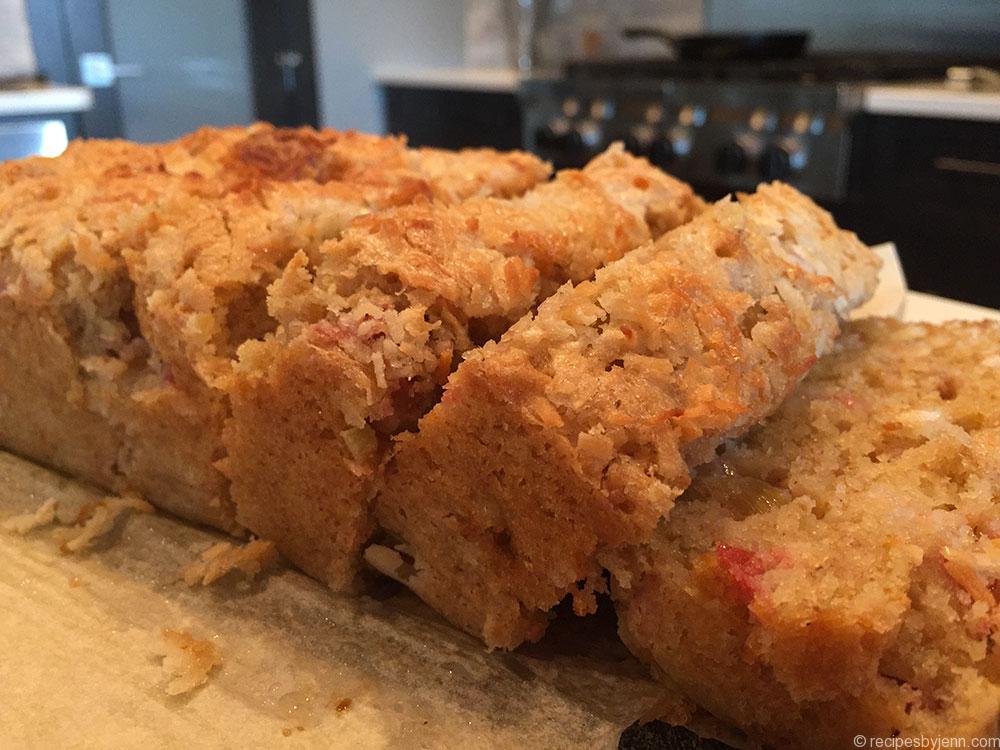 Your eyes are not deceiving you, my friend! This loaf is SUPER moist and the sweetness of the coconut and the pure maple syrup offset the tart flavour of the rhubarb just perfectly!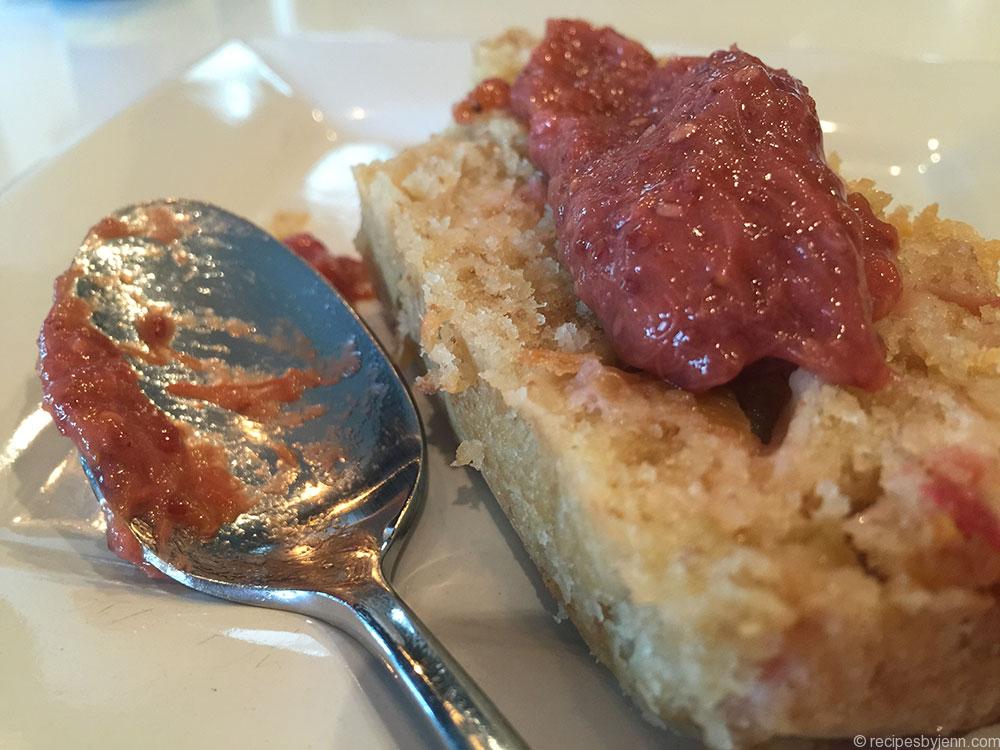 And since it's a veggie anyway, go ahead and top with a little of that rhubarb jam from the other day! No refined sugar, no butter, but holy-oven-mitt-Batman, THIS is how mornings were meant to start!
Ok - let's get to the good stuff!
Start by gathering up all of your ingredients... (for sweetener, you can use raw sugar as shown in the photo below, or you can sub for pure maple syrup which is what I ended up doing, but forgot to take a new picture with the syrup lol - stop judging, I was focused on eating this bad boy! Not paying attention lol)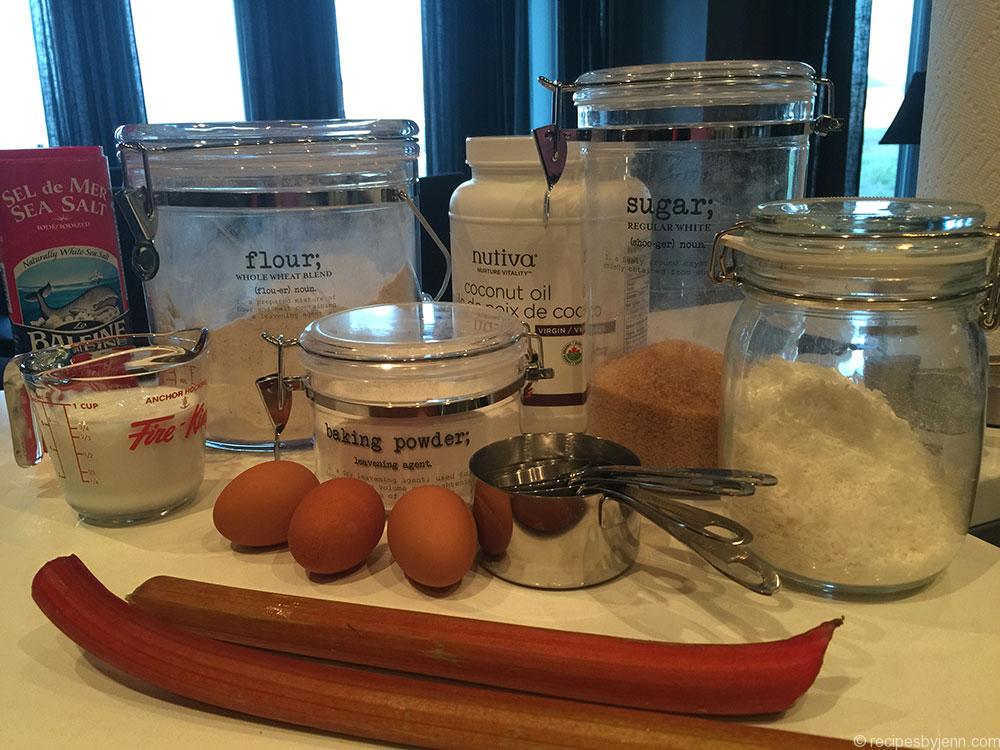 Then prepare your loaf pan. This is a 9" x 5" pan. And a neat little trick that I learned from Martha Stewart...
Grease your pan with butter (just a little)
Cut two pieces of parchment paper to fit into your pan exactly, allowing extra to drape over the sides
Gentle press the parchment paper into the pan - the butter will hold it in place
Fold over the excess paper and use METAL alligator clips to hold it in place (flaps up so they don't interfere with the loaf)
Then, very gently so that the paper doesn't slide around, brush a little more butter on the parchment paper
Dust with flour (add flour to the pan and then tip the pan all around so the flour evenly distributes)
Dump out the excess flour and you're good to go!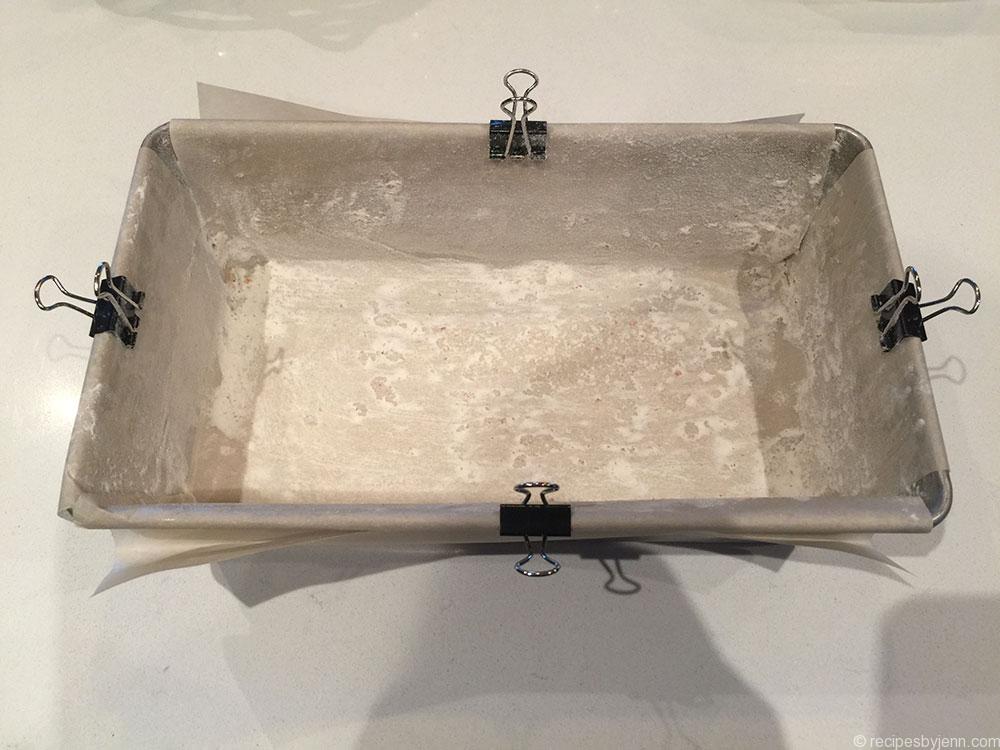 Preheat your oven to 375°F.
Chop up your rhubarb (you need 2 cups, or about 2.5 stalks, depending on size). I like to cut my stalks into fourths by length first and then chop. The pieces are smaller and you get them more evenly dispersed throughout the loaf.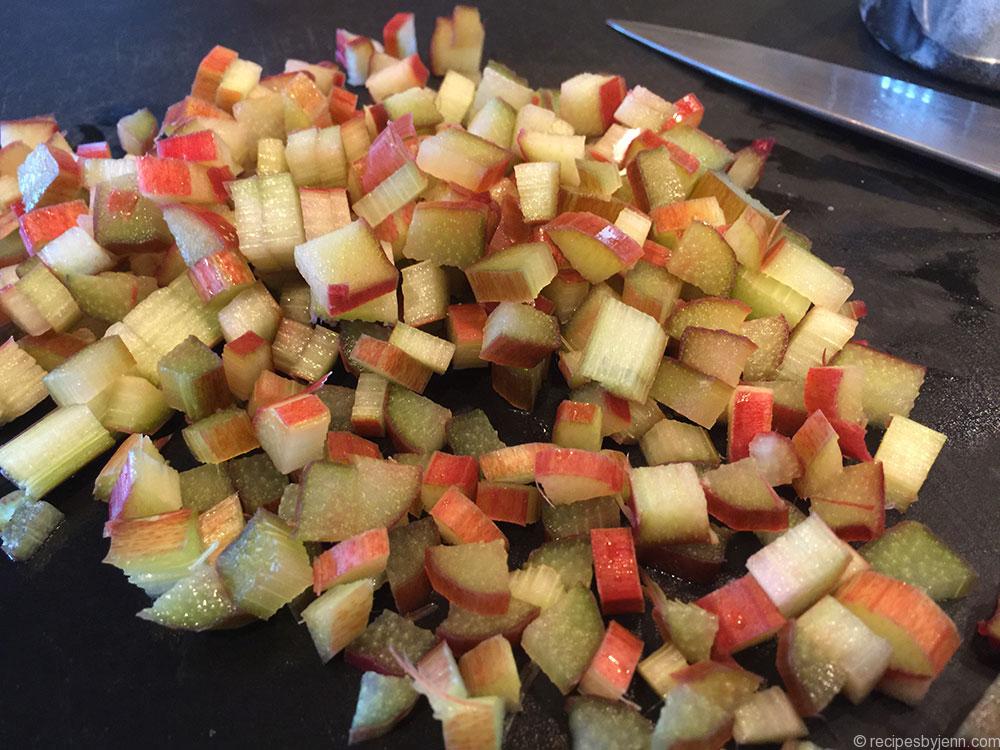 Now, add your flour, baking powder and salt to a bowl and mix together.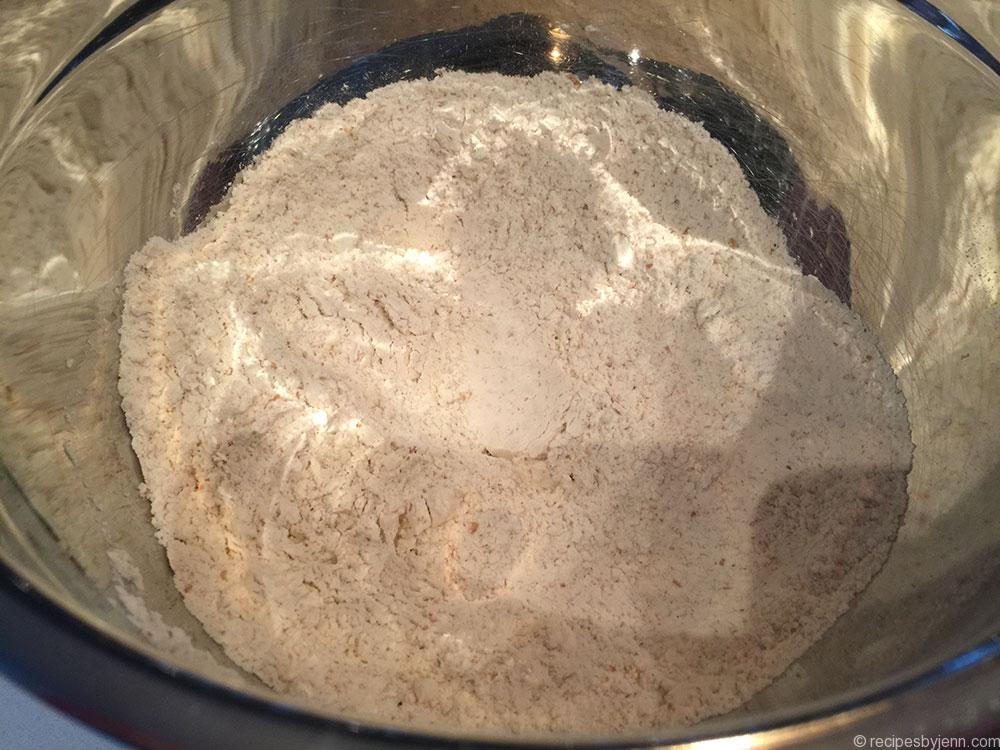 Next, add room temperature eggs to a separate bowl and use your hand mixer to completely mix.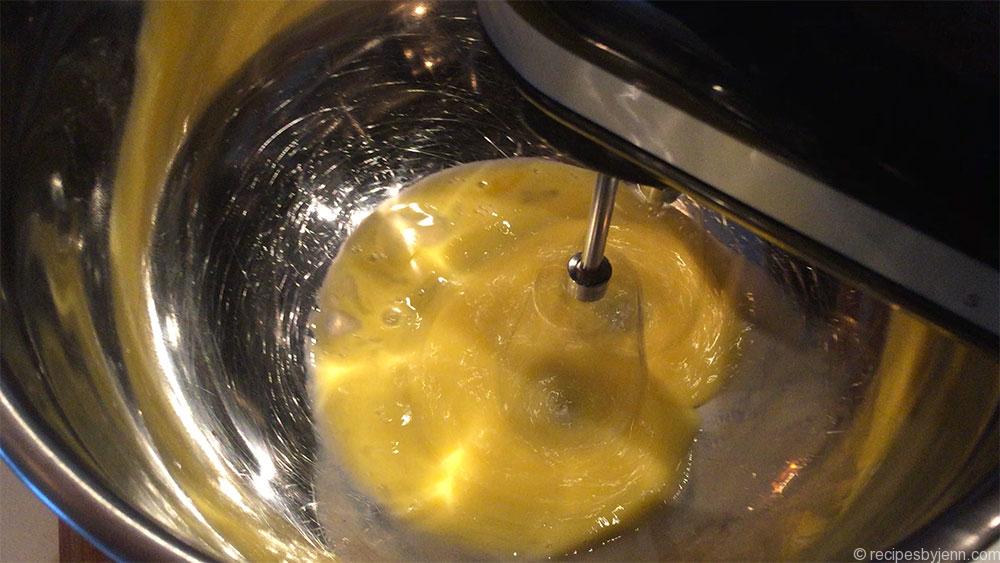 Add your coconut milk and blend for a minute or so until completely milky in texture.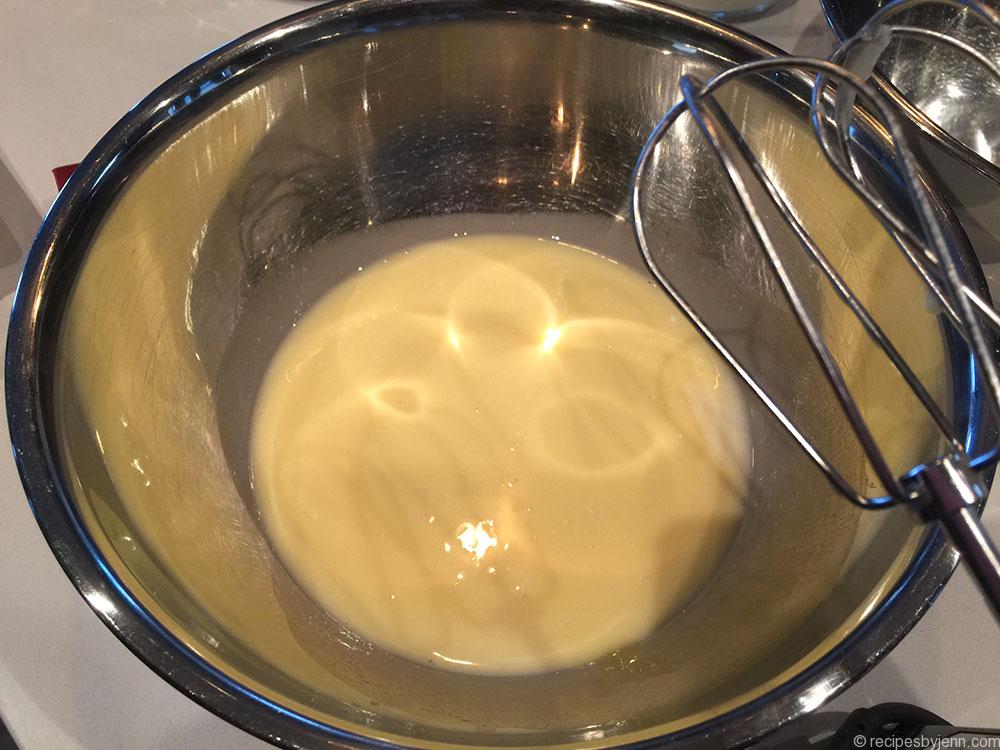 In a third bowl (yes, three) blend your maple syrup and melted coconut oil together until completely mixed and the oil is not separated from the syrup.
Add half of your flour mixture and blend.
Add ALL of your egg mixture and blend.
Add the remaining flour mixture and blend.
(I know, a lot of blending, and my hands were full so no pics on those steps lol. Damn I need a third hand!)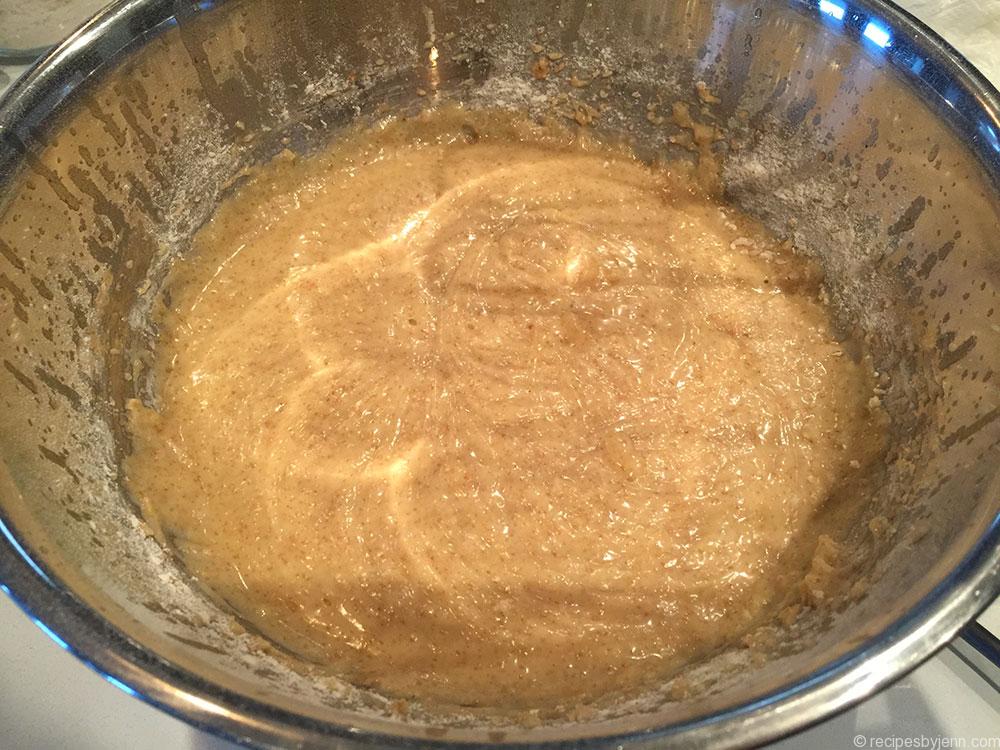 Add your rhubarb and fold together by hand.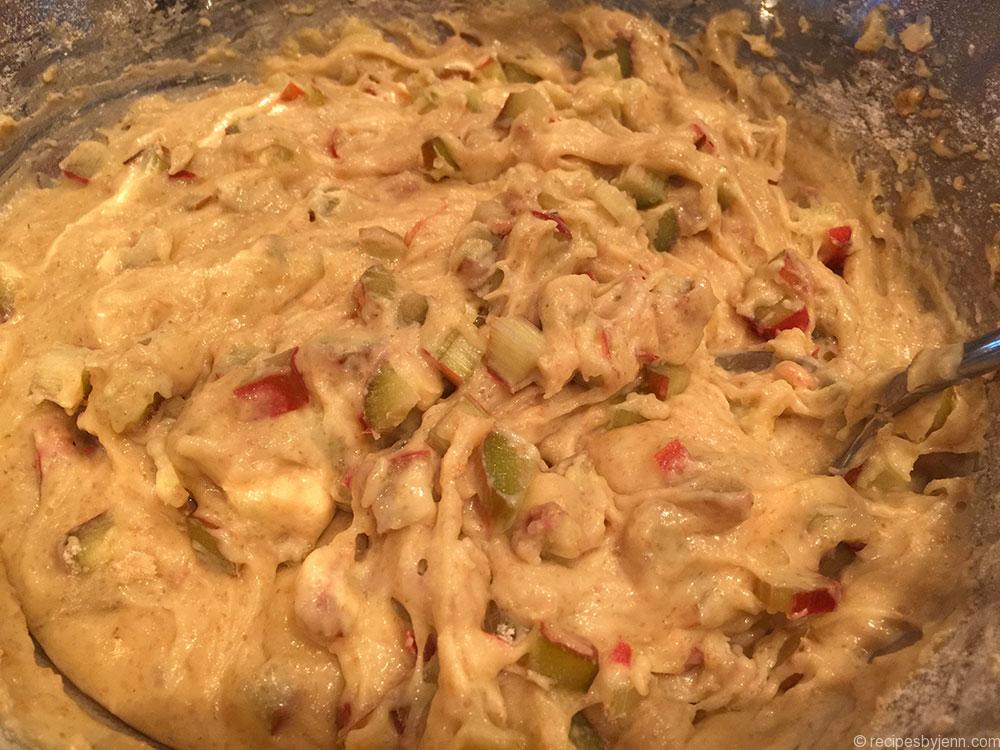 Pour it into your prepared pan, spreading it evenly into the edges, and sprinkle your coconut on top, gently pushing the coconut into the batter just a little.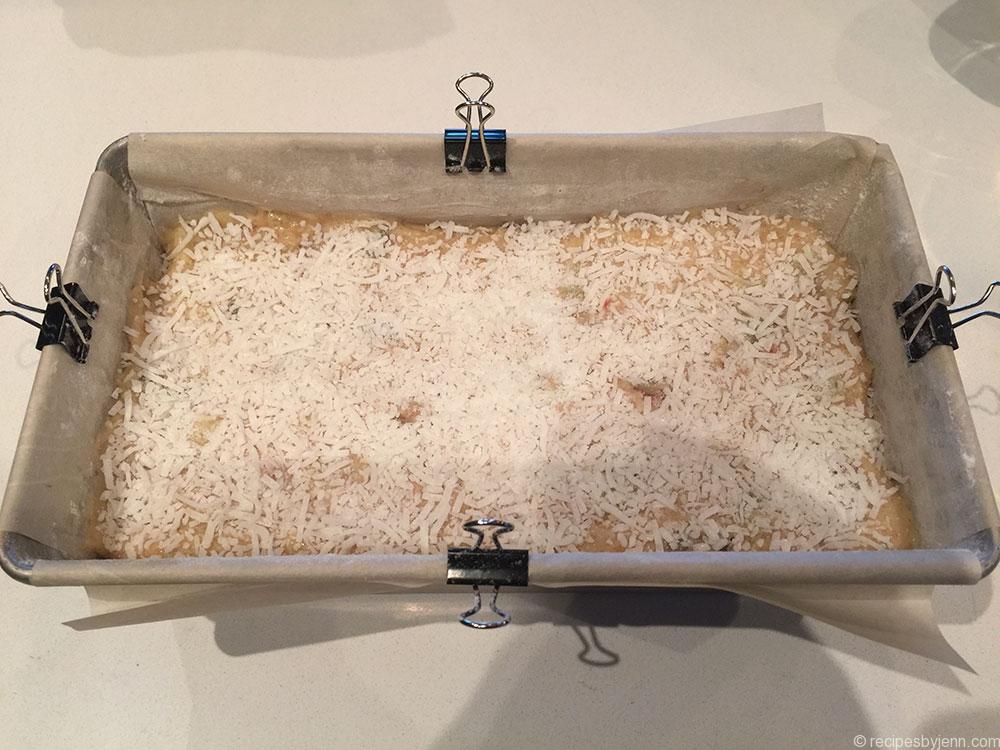 Cover loosely with foil and bake for 30 minutes (use your timer so you don't forget!).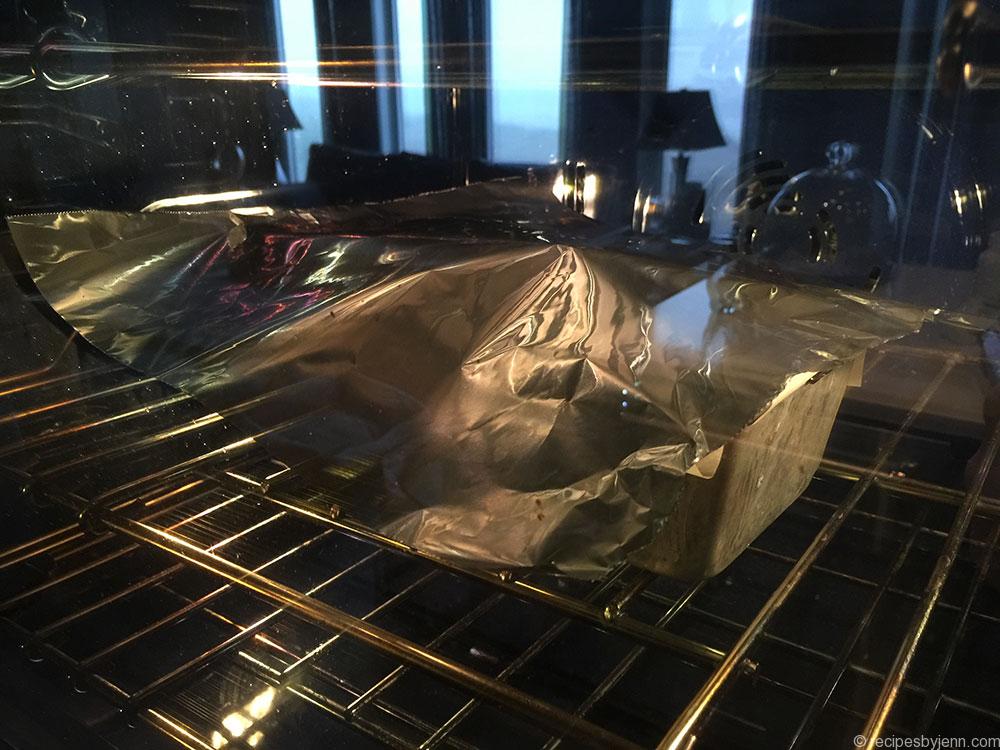 Remove the foil and continue baking for another 40 minutes (or until you can gently poke with a tester and it comes out clean, it will be moist but not wet). (If you find your loaf is still not ready and you don't want the coconut on top to brown too much, you can cover with foil again in the last 5 minutes or so.)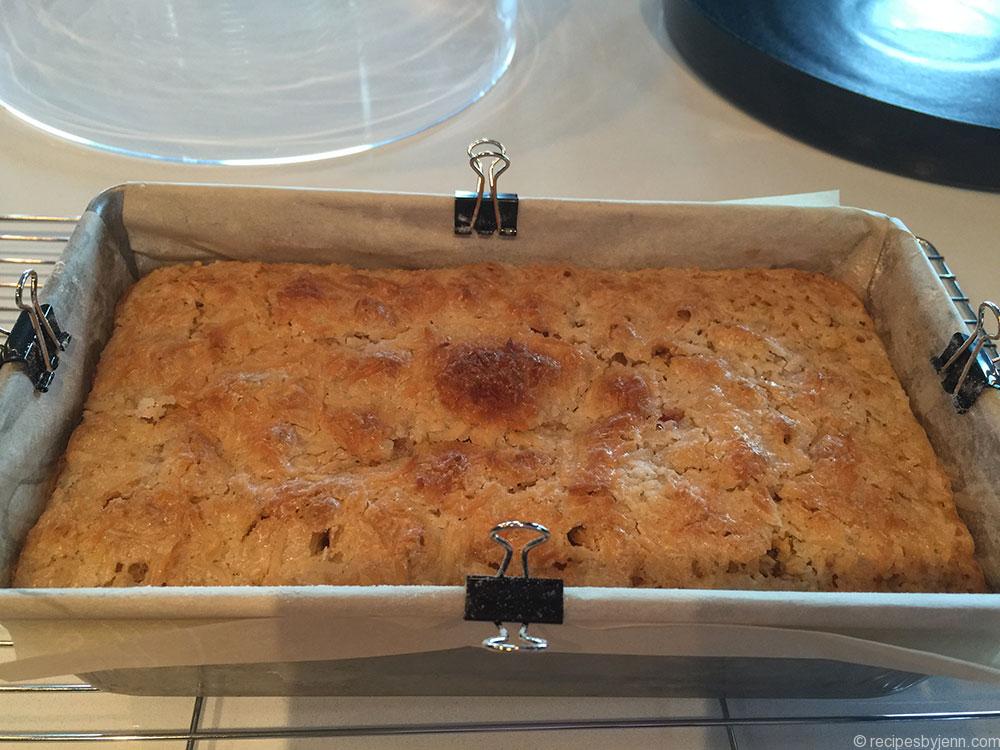 (OMG Look at that! Is it time for a second piece?!?)
Allow it to cool completely. Then remove the alligator clips and use the underside piece of parchment to lift the cake right out! Magic!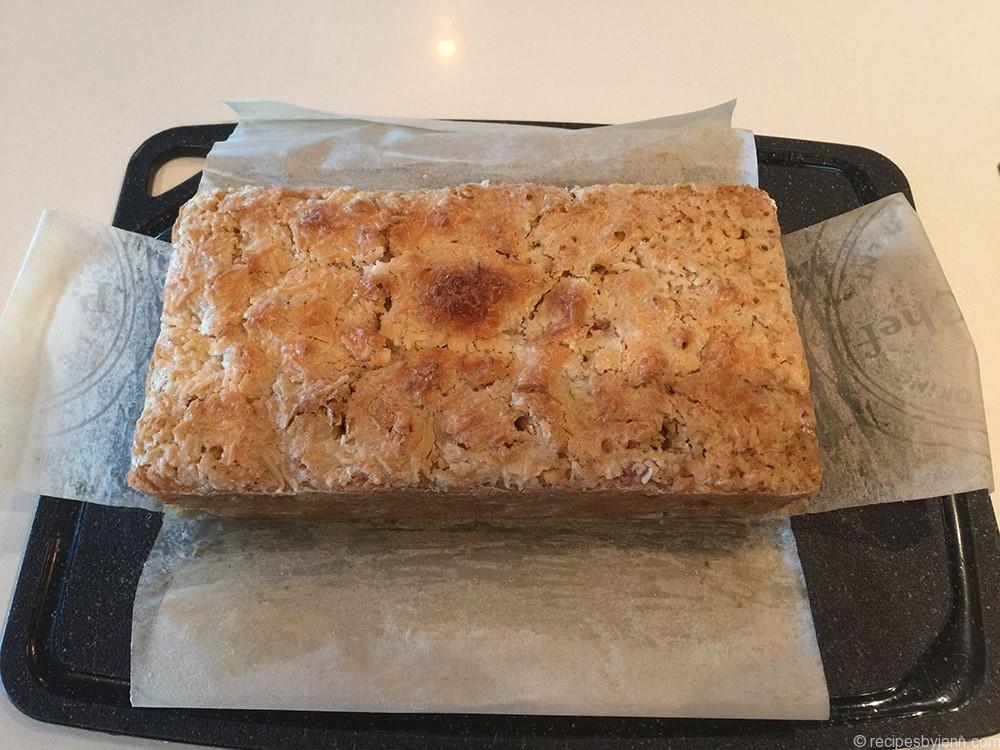 The perfect loaf!
Now, cut into 8 pieces, and eat! Slather with rhubarb jam, and eat another piece. Then show off to hubby at lunch and have another! (Ok, maybe not so many in a 4 hour period lol)
But seriously... EAT!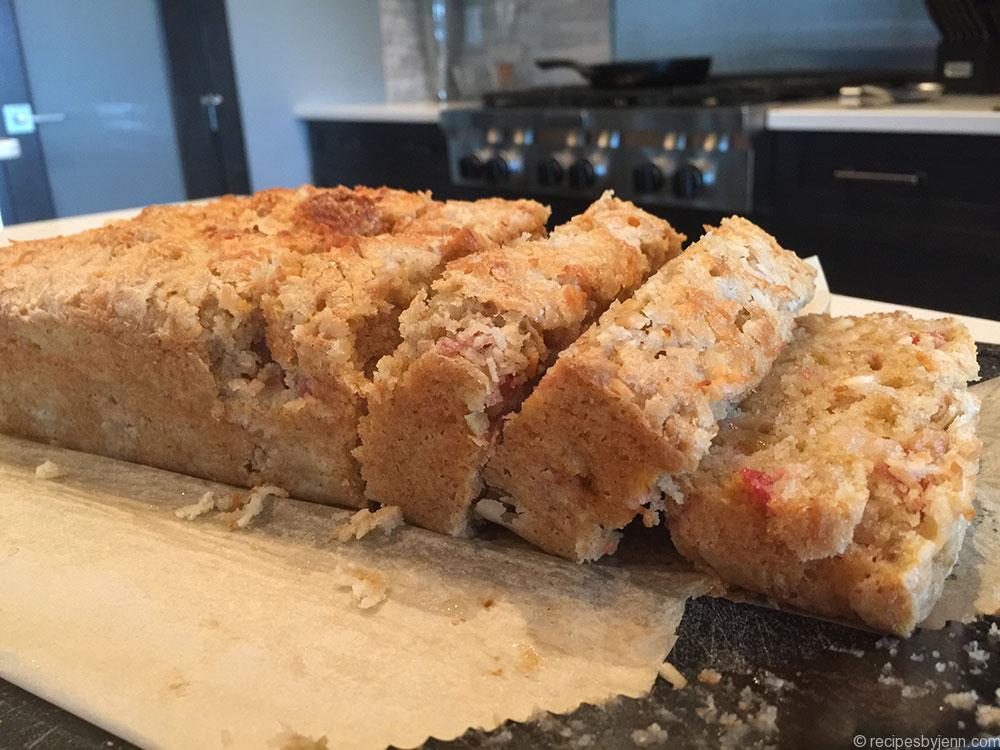 ---
When you make your own, don't forget to take a photo and share it online at Facebook, Twitter or Instagram with the hashtag #recipesbyjenn and by tagging @recipesbyjenn. That way, I can see your photos and share them with all my friends! Plus, I get to feature them on this site along with all my other photos!
Instructions
Preheat your oven to 375°F and prepare your loaf pan (instructions above)
Chop up the rhubarb into small pieces and set aside
In 1 bowl, mix together flour, baking powder and salt; set aside
In a 2nd bowl, blend your eggs until completely mixed, and add your coconut milk, blending until milky and smooth; set aside
In a 3rd bowl, blend together your melted coconut oil and syrup until completely mixed.
Add half the flour mix and blend. Add ALL of the egg mix and blend. Add remaining flour mix and blend.
Fold in your rhubarb
Loosely cover with foil and bake 30 minutes. Uncover and bake for 40 minutes or until loaf is done through. Allow to completely cook before removing from the pan.
Keep this for your treat days as it is high in coconut oil.
(1 piece: Green: 0.25, Red = 0.2, Yellow = 0.5, Blue = 0.5, Orange = 4.5)
I am including the container values for my own reference (and anyone else wanting to do this)... but keep in mind, these are my recipes and not provided by or approved by or associated with, or anything else 'with', the 21 Day Fix. In fact, it may be a little generous at times, or ingredients may be different based on what we like to eat. It's meant to be a guide.
Modified from the original recipe found at www.10thkitchen.com
Add to Favourites