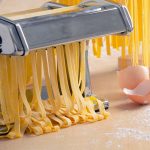 Easy Pasta Dough
It doesn't get much easier than this! Tyler Florence really gave us a winner with this one! This is such a quick and easy pasta dough recipe. I mean, it's easy once you get the hang of the past machine ;o) Took me about 3 tries before getting it down to full blown ravioli in under an hour… But it works!
Instructions
In an electric mixer fitted with a dough hook, combine the flour and salt.
Add the eggs, 1 at a time, and continue to mix.
Drizzle in 1 tablespoons of the olive oil and continue to incorporate all the flour; if the dough is not sticky enough to pinch together, adding 1 tbs at a time of water until it mixes together (up to 2 tbs).
Add your additional ingredients during this phase if you are using them.
On a clean, dry work surface, sprinkle some flour, pour your dough mix out and knead until elastic and smooth (approx. 10 minutes).
Brush the surface with the remaining olive oil and wrap the dough in plastic wrap; let rest for about 30 minutes to allow the gluten to relax.
Cut the ball of dough in 1/2, cover and reserve the piece you are not immediately.
Dust your work surface with flour again (I like using a wax paper lined counter for this).
Use a rolling pin to press out a rectangle of dough and then you can run it through a pasta machine; start with the widest setting and then go thin for your pasta (i.e. ravioli does better with a very thin sheet).
Dust the sheets of dough with flour as needed. Cut into your favourite pasta shapes and cook according to pasta dish directions.
Recipe courtesy Tyler Florence, The Food Network
Add to Favourites