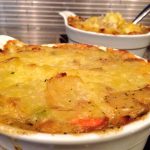 Prep Time: 30 minutes
Cook Time: 20-25 minutes
Print
No-Crust Chicken Pot Pie
Instructions
Cook your chicken breasts (I steam mine for 30 minutes, however you can dice it an fry it as well - make sure to use the same pan with your veggies)
In a cast iron skillet, melt 2 tbs butter over medium high heat, saute the garlic and vegetables until slightly browned; add cooked, diced chicken
Add the white wine and simmer for 1 minute.
Add the chicken stock and simmer until the vegetables are tender (this time can vary depending on how small you dice your veggies - for me, it was 10 minutes);
Mix together flour and milk until the consistency of thick pancake mix (if you need to adjust by adding a little more water, you can); add to the vegetables and chicken, and cook until thickened. Add thyme, and season, to taste, with salt and pepper.
NOTE: if the overall mix is too thick you can simply add a little more chicken stock to give a more gravy-like texture
To make the topping, chop up and steam your potatoes (approx 30 minutes until soft); allow to sit for a few minutes to dry after steaming. Add in cream and butter; season with sea salt and pepper to taste.
Portion the veggie/chicken mix into individual baking dishes; top woth potatoe and bake for 20 minutes @ 400 degrees.
Add to Favourites