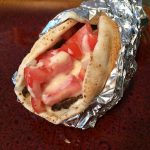 Prep Time: 20 minutes
Cook Time: 1h 15 min
Print
Donairs
One of my favourite guilty pleasures is a donair. So I had to find a way to make it more lean from home. Voila!
This was amazing... being from the Maritimes, I opted for the Halifax way of making my sauce, and it was amazing.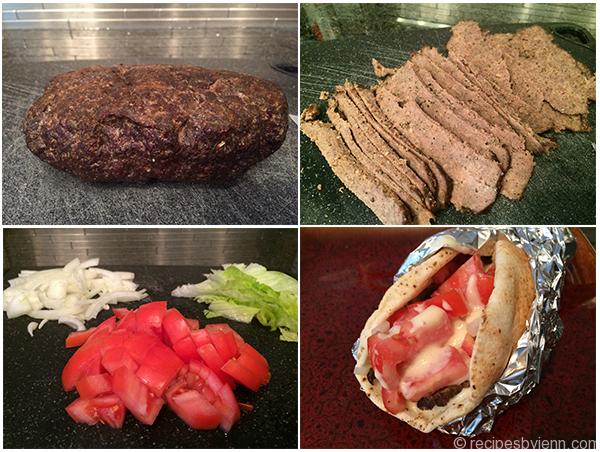 Instructions
Make the sauce first and allow to chill: mix together the evaporated milk, condensed milk and garlic powder in a medium bowl. Gradually whisk in the white vinegar, adding 1 tbs at a time, until thickened.
Preheat the oven to 350 degrees F. In a cup or small bowl, mix together the salt, oregano, flour, black pepper, Italian seasoning, garlic powder, onion powder, and cayenne pepper.
Place the ground beef in a large bowl, and use your hands to blend in the spice mixture. If you want the smooth texture of meat that you see in a real donair shop, you must do this in a steel mixing bowl and on a sturdy surface. Pick up the meat, and throw it down with force about 20 times, kneading it after each throw. This also helps the meat hold together better when you slice it.
Form the meat into a loaf, and place it on a baking sheet.
Bake for 1 hour and 15 minutes, turning the loaf over about half way through; allow to cool a bit and then thinly slice/shave the meat as shown
Top with your favourite topping (i.e. diced tomatoes and onions if you are like me, and no tomatoes but add lettuce if you're my hubby ;o)
Place a square of foil on a hard surface, assemble your donair, and wrap the foil around the donair, leaving the top open. This will help catch any extra sauce from dripping.
Donair meat: http://allrecipes.com/recipe/dashs-donair/
Donair sauce: http://chowtown.wordpress.com/2009/05/06/donairs-wsweet-sauce/
Add to Favourites