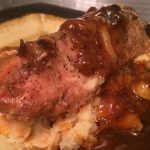 Prep Time: 10 minutes
Cook Time: 8h 00 min
Print
One-Pot Pork Roast Dinner
For those days when there just aren't enough hours to plan a good home-cooked meal…
Instructions
I strongly recommend finding a pork tenderloin. Other cuts of pork are just a little dry for me.
Divide your tenderloin into two portions
In a bowl, mix together soup mix, oil, soy sauce and water
Add remainder of ingredients to a slow cooker and pour the soup mix over everything; sprinkle salt and pepper
Cook on high for 4 hours, or slow for 7-8
Once cooked, remove the potatoes and carrots to a separate bowl; mash with 1 tbs organic butter and black pepper
Serve potatoes/carrots on a plate with the pork roast. Shown in the above picture with a demi glacé from Club House, using the slow cooker liquids in place of water.
Add to Favourites