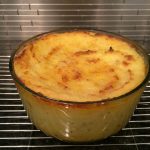 Prep Time: 15 minutes
Cook Time: 60 minutes
Print
Roasted Garlic Mashed Potatoes
Potatoes. What's not to love? I am over the moon for this recipe and we have it all the time. There are only 2 of us in my house and so one batch of these will do 6 small glass containers that I freeze and then take out to bake whenever we need a quick but delicious side for chicken, steak, turkey or whatever. Don't be intimidated! It's so easy to make, and worth every second.
Five pounds will go a long way, so if you are making for two, like I do, then you can portion your 5lbs of potatoes into 5 small glass baking dishes and freeze right before you bake them. Then, throughout the month, you can just pull one out to thaw, pop it in the over with a dollop of butter, and you've got fancy potatoes on a Tuesday!
Instructions
Prepare your Garlic: Heat oven to 375 degrees. Toss the garlic in oil and wrap in tin foil. Bake for one hour – too long and the garlic will harden.
Make the Potatoes: Preheat the oven to 350 degrees F.
Dice the potatoes and boil in a pot of water until fork tender, 25 to 30 minutes. Drain and return to the pan.
Mash the potatoes over low heat for 3 minutes to allow the steam to escape.
One at a time, add and mix thoroughly the butter, cream cheese, half and half. Season with salt and pepper to taste.
Add mashed roasted garlic to taste. Start small and add to your liking
Put the potatoes into a buttered or sprayed baking dish. Dot the top with butter. Bake until golden – about 30 minutes.
Modified from from Ree Drummond, The Pioneer Woman
Add to Favourites