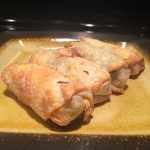 Yield: 15 rolls
Prep Time: 20 minutes
Cook Time: 15 minutes
Print
Spring Rolls
If you know me, you know that I love Asian rolls… I'm not even too selective! As long as it's not raw, I will always be THAT friend that you can drag off to the nearest Asian restaurant! I love spring rolls, but I don't like the idea of them being deep fried. So I set my ActiFry to work and came up with these. Also included are the standard baking instructions. Enjoy!
Lay out all of your elements before you start rolling, so that everything is within reach.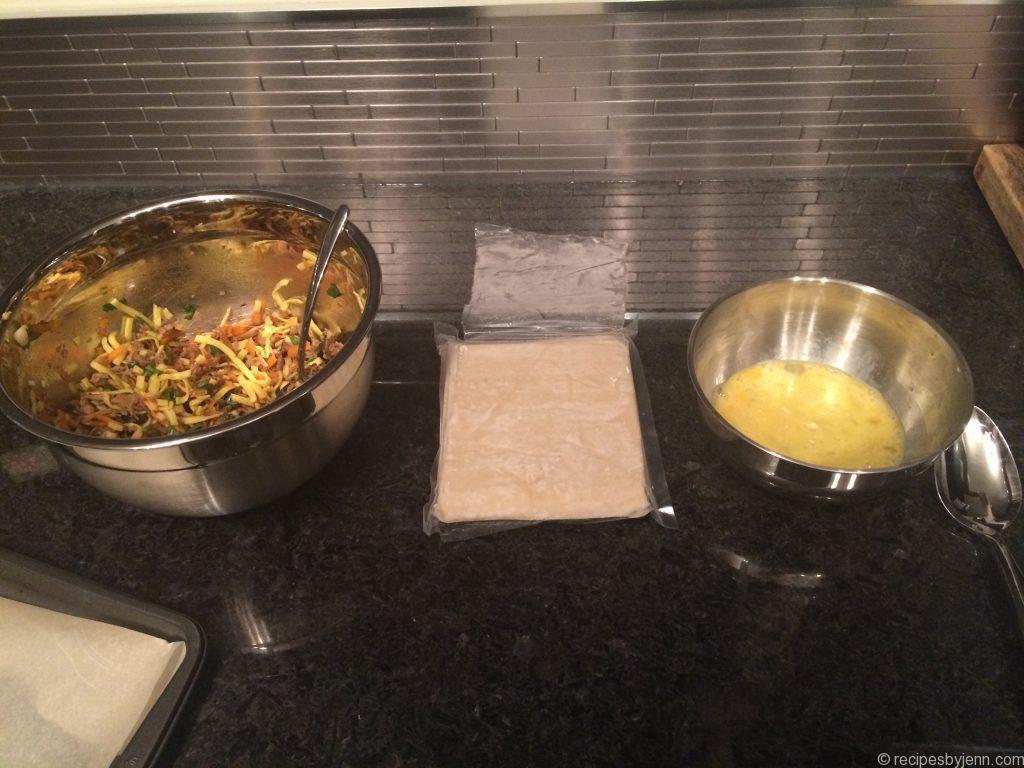 Place a small amount of filling on your sheet...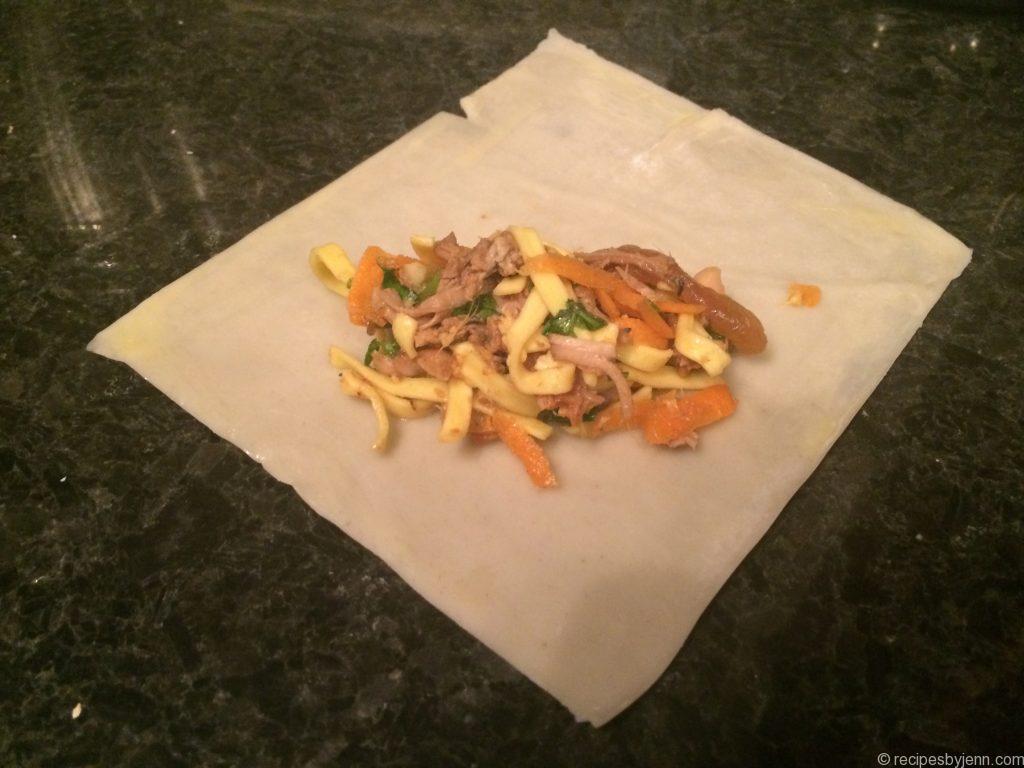 Fold over the bottom and then fold in the two sides... Now you are ready to roll...
Lay out onto your cookie sheet to prepare for freezing.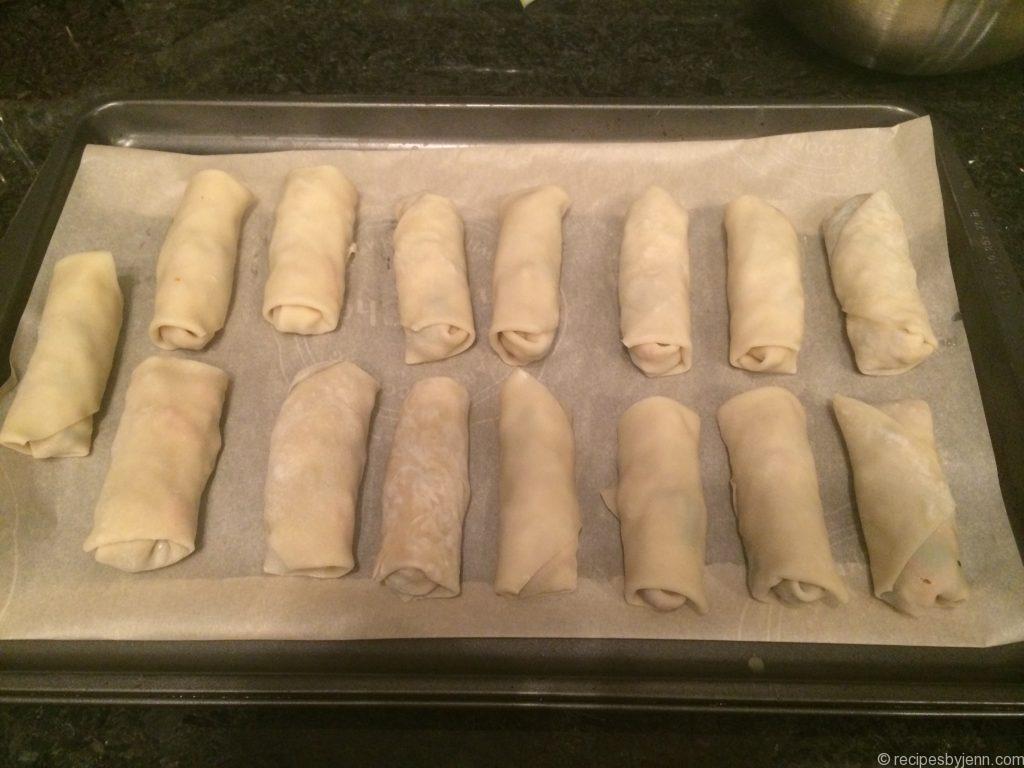 Pop them into your ActiFry and wait for them to be done. Careful - they'll be hot so don't go stuffing them in your face until they've had a chance to cool ;o)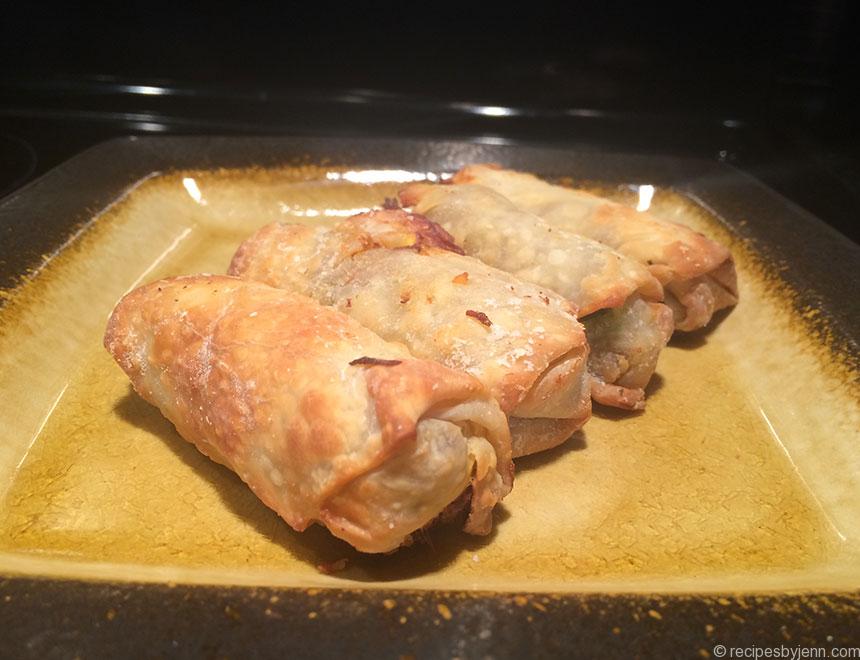 Instructions
Place pork in a medium saucepan. Cook over medium high heat until evenly brown. (If using leftovers, shred pork and heat through.) Remove from heat and drain.
In a medium bowl, mix together pork, noodles, carrot, green onions, cilantro, sesame oil, soy sauce, garlic and chili sauce.
Prep your work space: have your bowl of mix, your wrappers and your egg in front of you before you start. IMPORTANT – also have 2 damp dish cloths ready to keep the wrappers covered or else they will dry out very quickly. Cover the unused and the already-rolled pieces while you work.
Place approximately 1 tablespoon of the mixture in the center of spring roll wrappers. Roll wrappers around the mixture, folding edges inward to close.
Brush the edges of the wrapper with the egg, and fold the wrapper starting with a bottom fold, two side folds, and the roll tight
Line a baking sheet with wax paper and arrange spring rolls in a single layer; cover with plastic wrap and freeze at least 4 hours prior to cooking
TO BAKE: To bake, preheat oven to 425; brush rolls with a little olive oil and bake until hot and lightly browned – approx. 20 minutes. For crispier spring rolls, turn after 10 minutes.
TO ACTIFRY: To ActiFry, place your frozen rolls into the ActiFry, drizzle ½ tbs olive oil evenly over them and cook for approx. 15-18 minutes until golden brown.
Add to Favourites