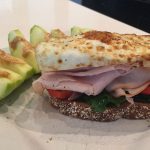 Yield: 2
Prep Time: 5 minutes
Cook Time: 25 minutes
Print
Egg & Turkey Breakfast
Breakfast is my favourite meal of the day! It is an opportunity to really give yourself that kick in the morning, or on special days, indulge in that French Vanilla coffee you've been dreaming about all week.
In looking for breakfast ideas that were tasty but also fell in line with the 21 Day Fix, there are a lot of standard oats / eggs / berries ideas out there. Well, this girl needs a little more. Here's my take on egg and turkey, and OMG it's really quite good. One pan, 10 minutes. Done!
Enjoy!
---
When you make your own, don't forget to take a photo and share it online at Facebook, Twitter or Instagram with the hashtag #recipesbyjenn and by tagging @recipesbyjenn. That way, I can see your photos and share them with all my friends! Plus, I get to feature them on this site along with all my other photos!
Instructions
Pop your bread into the toaster
In a heating pan, lightly spray with olive oil cooking spray and add your peppers to one side of the pan. When they start to brown, flip them and add spinach.
Add eggs to the other side of the pan and sprinkle all with pepper. When the eggs are done and the spinach wilted, remove from the heat.
Butter your toast, and layer with peppers and spinach, shaved turkey and egg.
Serve with apple wedges and cashew butter.
(Green = 2, Red = 2, Yellow = 1, Purple = 1, Spoon = 2)
I am including the container values for my own reference (and anyone else wanting to do this)... but keep in mind, these are my recipes and not provided by or approved by or associated with, or anything else 'with', the 21 Day Fix. In fact, it may be a little generous at times, or ingredients may be different based on what we like to eat. It's meant to be a guide.
Add to Favourites