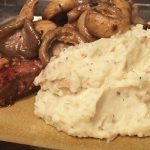 Cauli-Potato
Ingredient subbing at its finest! Add roasted cauliflower to your mashed potatoes… Also (eh-hem) a sneaky way to get cauliflower into the diet of those picky eaters (including myself lol).
Instructions
Preheat oven to 400F
Toss the chopped cauliflower in salt, pepper and olive oil drizzle; place on parchment paper and roast for approx 20-25 minutes or until it is soft and beginning to brown; allow to cool
In the meantime, boil your chopped potatoes until soft, but not too soft; drain and mash for approx 3 minutes allowing all of the steam to escape (will make them creamier in the end)
Puree the cauliflower in a processor and add to the potato mixture
One at a time, add butter, cheese and yoghurt blending very well
Season with salt and pepper to taste
Add a little buttermilk to make it creamier if you like.
Add to Favourites