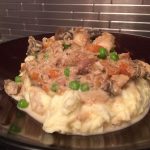 Prep Time: 7-8 hours minutes
Print
Chicken & Mushroom Potpie
A delicious little slow cooker gem! Set and forget! Then, portion and freeze the results, and take it out of the freezer for a quick addition to mashed potatoes, cauliflower, yam, or any other starchy side.
Instructions
In a 4- to 6-quart slow cooker, mix together the mushrooms, carrots, onion, flour, thyme, bay leaf, and 1/2 cup water
Place the chicken on top; season with 1 teaspoon salt and 1/4 teaspoon pepper.
Cover and cook until the chicken and vegetables are tender, on low for 7 to 8 hours or on high for 4 to 5 hours
Ten minutes before it's finished, add the peas, green beans, yoghurt, and ½ teaspoon salt to the chicken mixture and stir to combine
If your mixture is a little runny, you can add a small amount more of coconut flour to thicken it. Be careful, because you don't need a lot to get the job done!
Cover and cook on high or low until heated through, 5 to 10 minutes more
To serve, place the chicken mixture in bowls and top with potatoes, or other starchy side.
Add to Favourites