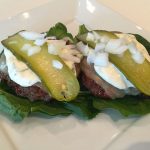 Yield: 10
Prep Time: 5 minutes
Cook Time: 10 minutes
Print
Nutrition facts

(per portion)
Nutrition facts
(per portion)
Calories: 49.3
Carbohydrate Content: 3.74
Fat Content: 15.9
Protein Content: 21
Juicy Beef Burgers
Is there anything better than a homemade, juicy burger? I don't think so my friend. I mean, there are a few disillusioned people out there, but, come on (!)... Charred meat? Homemade BBQ sauce? Fixin's?
I believe my point is made, people. 😛
And for years, I did like so many others - ran to the store, agonized over which patties would taste better but wouldn't catch the grill ON FIRE with the grease dripping off of them. Gosh, not even possible. Then we found a sirloin burger, which was really tasty... but then we looked at the amount of preservatives in the pre-packaged meat and almost fell over!
So - what's a girl to do? It was gonna have to be a homemade patty, but one that was not dry, did not fall apart, and was not overladen with oats or crackers (which is how my family always made them, and I just found them too heavy).
The hunt was on. I needed to find one, and it needed to be right now cause hubby had a craving for burgers and dinner time was coming fast! I scoured online looking for good sources... everyone has a different way of doing them - and they all look amazing! - but I pulled a little from here and there, added a few things that I know go good with hamburger meat, and presto! A keeper was born!
PLUS - and this is almost the best part - you can FREEZE them for later, pop them out and you've got an amazing dinner in a flash. And, if you end up looking like the hero... well, who am I to judge ;o)
One thing you're definitely gonna wanna invest in is a burger press. I bought this one, and some papers. You can adjust the thickness of your patties. We like to keep an eye on portions, and so I keep them at 4oz each. I weight the meat, and press it between two pieces of paper (I don't put the meat directly on the press 'cause, well, it's raw meat). Then I lay them flat in my FoodSaver bags and vacuum seal away.
Two at a time for us, cause there's only two mouths. When you do it at 4oz each, this recipe will make 10 patties - 8 to freeze and two to gobble!
A big thing you will notice right away with these patties when you cook them - they are NOT greasy. Like, at all. And so, avoid the big big big mistake of using your spatula to press on them when grilling. The little teeny tiny bit of juice that is in them will be lost. I have done them on the indoor grill (God forbid) when absolutely desperate, and because the grill is a press, they do end up being a little drier than I prefer.
Part of what gives them the juice - equal amounts of oil + Worcestershire sauce. I read about this online somewhere and realized that in everything I did, the two had differing amounts. I don't really know the science behind it, but as soon as I switched my method, I noticed an immediate difference.
And what about the keep-it-together filler? A small amount of panko + whipping cream. Let it sit and the panko expands slightly. A little goes a loooong way. Love it!
If you let your significant other cook them, try to remind them that they do not need additional spices on the grill. Of course, as I say this, you can see how my husband has COATED them in extras lol. For him, grilling mean garlic powder, onion powder and Montreal Steak Spice. On everything (burgers, hot dogs, buns, shrimp, veggies, corn, eggs, sausages... need I say more? Can't knock it tho - he's cooking dinner!)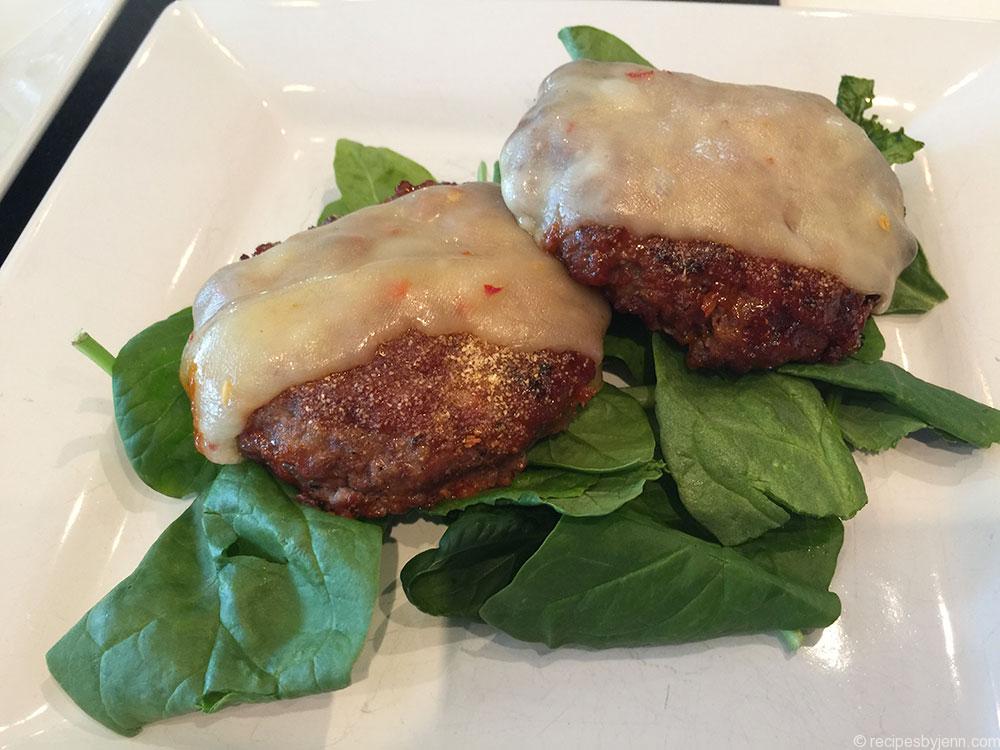 Serve them on buns or on a bed of spinach.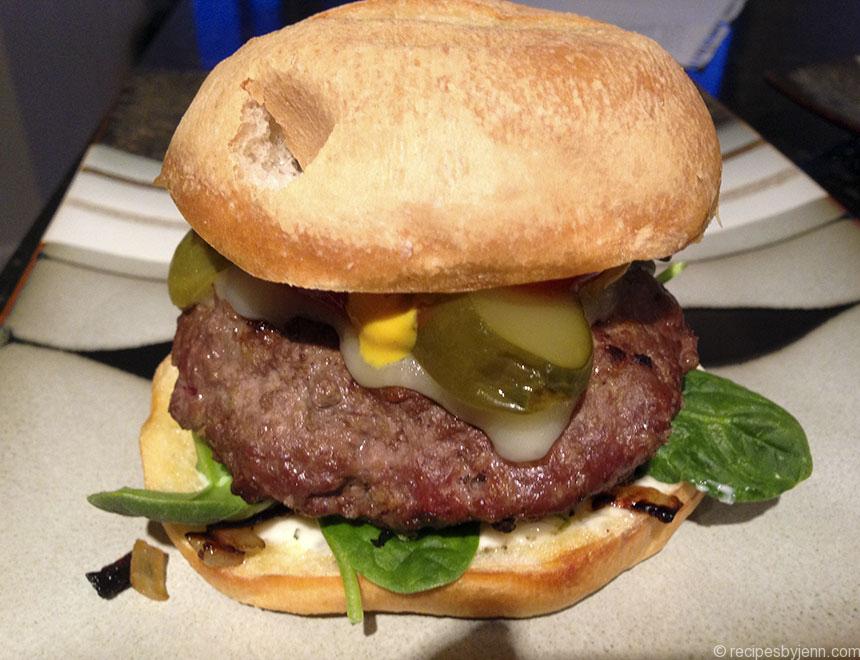 Instructions
Mix together panko and cream, and let it sit for 5 minutes; add remainder of burger ingredients, mix together
Portion out 4 oz at a time (use a scale), place between two pieces of waxed paper and use your press to flatten
Grill one side at a time until cooked through - do not press them down with a spatula, you will lose the juices
Brush with Homemade BBQ sauce in the final few minutes
Add Monterrey jack cheese to each patty, cover and allow cheese to melt on the grill
Add all garnish ingredients to bun with patty and serve, or omit the bun and enjoy on a bed of spinach
Optional Garnish:
Katchup & mustard
1 tbs butter + onion diced onion (fry until onions are browned)
Monterrey jack cheese
spinach
2 slices of dill pickle
Amazingly juicy even though the meat is extra lean!
Add to Favourites