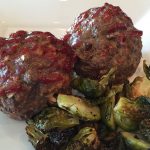 Yield: 4 large cupcake-sized loaves
Prep Time: 5 minutes
Cook Time: 45 minutes
Print
Mini Meatloaves
When I was a little girl, I had a favourite great Aunt who would always make me her amazing meatloaf every year on my birthday, or whenever she knew I was coming to visit. She was a very sweet woman, and passed when I was still young, and ever since, I have searched and tested a ton of meat loaf recipes –none have come close. And honestly, I don't know if this one does either (and granted, my palette has likely improved since elementary school!), but of all the recipes I have tried over the years, this one finally became the one that I kept.
Thanks to www.brigitblankfitivation.blogspot.ca for this one. It's a keeper for sure!
Instructions
Preheat oven to 400 degrees; spray muffin tin with nonstick spray
Mix all ingredients (minus ketchup) together, divide 4 ways, roll into balls and place in the cups
Drizzle ketchup on the tops of the balls
Bake 35-40 minutes or until meat is cooked.
(Green = 1, Red = 2.5, Yellow = 0.25, Tsp = 1)
I am including the container values for my own reference (and anyone else wanting to do this)... but keep in mind, these are my recipes and not provided by or approved by or associated with, or anything else 'with', the 21 Day Fix. In fact, it may be a little generous at times, or ingredients may be different based on what we like to eat. It's meant to be a guide.
Add to Favourites