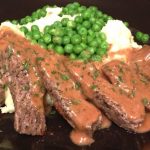 Pan-Seared Filet
Instructions
Clean the meat and slice it width-ways, making a variety of smaller pieces.
sprinkle both sides of each piece with sea salt and pepper.
Over high heat, add oil, and when slight wisps of smoke, add meat; cook undisturbed over high heat for 3-4 minutes; turn and cook the other side the same; place the cooked meat aside in a covered dish.
Remove excess fat from the meat (if any - note bison will not have any fat juices); add wine and scrape with a wooden spoon or spatula to remove the meat that has deposited on the pan.
Turn down the heat so that the pan is not boiling; still in the cream and whisk until thickened slightly.
Whisk in mustard and, a piece at a time, the butter, allowing time to melt thoroughly.
Add salt and pepper; pour over meat and sprinkle parsley. Serve hot.
Thanks Wolfgang Puck!
Add to Favourites