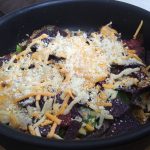 Prep Time: 15 minutes minutes
Cook Time: 30 minutes minutes
Print
Pizza Nachos
This looks like plain nachos… but – oh! – so far from the ordinary! Give them a try… you'll be hooked!
Instructions
Melt the butter in a pan; add Parmesan and stir until melted
Add cream and milk, stirring until blended
Add remaining sauce ingredients and simmer on low while it thickens slightly
Layer your corn chips; pour the sauce over the chips and top with the remaining nacho ingredients
Bake @ 350 until cheese has melted; sprinkle with grated Parmesan if desired
Original recipe from inspiredreamer.com via Pinterest.
Add to Favourites