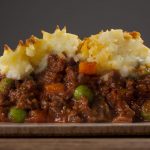 Prep Time: 30 minutes
Cook Time: 20 minutes
Print
Shepherd's Pie, Take 2
We're recently been invited to a culturally-themed dinner party, and while Ukrainian dishes for my husband abound out here in the Wild West, finding something great from my Irish heritage was a little trickier… I mean, something without cabbage. So I thought, Shepherd's Pie, but the one I usually make is geared towards a healthier lifestyle. So warning – this version is definitely the comfort food type! Ahhh, how comforting it was!
Instructions
Directions:
Start by setting your potatoes to steam for 30 minutes or until soft
Once they are done, mash them in a bowl for approx 3 minutes while all of the steam escapes
One at a time, mash in butter, cream cheese and milk
Season with salt and pepper and set aside until ready to use
While the potatoes are steaming start your meat base.
Pre-heat oven to 400°F.
Saute carrots in the olive oil until starting to get tender.
Add in the onions and saute for a minute or two then add the meat.
Season with black pepper and thyme.
Cook until browned then drain fat.
Add the butter and peas.
Sprinkle with flour and stir through.
Add tomato paste, wine and Worcestershire sauce.
Let this reduce slightly then add the chicken stock. Allow to reduce down until you have a thick meaty gravy. Season to your taste.
Remove from heat.
Prep for the oven.
Grease an oven proof dish with olive oil cooking spray and add the meat base.
Note - if you are using muffic cups, you do not need the spray
Spoon the mashed potatoes over top.
Brush with egg and sprinkle with Parmesan cheese if using.
Bake for about 20 minutes or until the potato is nice and browned on top.
Modified from www.food.com
Add to Favourites