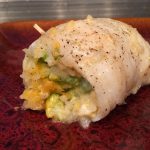 Yield: 2
Prep Time: 45-50 minutes
Cook Time: 60 minutes
Print
Stuffed Cod
A very simple and delicious ways to dress up white fish!
Instructions
In a small bowl, combine the butter, lemon juice, salt and pepper.
In another bowl, combine the broccoli, rice, cheese and half of the butter mixture.
Spoon 1/2 cup onto each fillet. Roll up and place seam side down in a baking dish coated with cooking spray. You can stick with large toothpicks to hold together.
Pour remaining butter mixture over roll-ups.
Bake, uncovered, at 350° for 45-50 minutes or until fish flakes easily with a fork. Baste with pan drippings.
(Green = 1, Red = 2, Blue = 1, Yellow = 1, Tsp = 2)
I am including the container values for my own reference (and anyone else wanting to do this)... but keep in mind, these are my recipes and not provided by or approved by or associated with, or anything else 'with', the 21 Day Fix. In fact, it may be a little generous at times, or ingredients may be different based on what we like to eat. It's meant to be a guide.
Modified from original recipe on 
www.tasteofhome.com
Add to Favourites